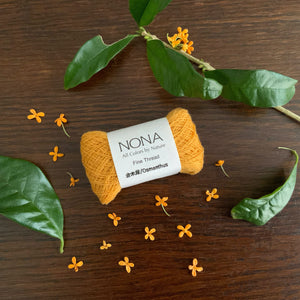 AROMA TEMARI KIT Osmanthus
Sale price Price $18.00 Regular price Unit price / per
tax included
NONA Aroma Temari Kit

Experience the Japanese traditional folk art of aroma temari making with NONA thread. All materials are from nature and hand-made in Japan.

・Rice husks/herbs
・NONA fine thread 5g/ Osmanthus Orange
・Essential oil (Osmanthus)
・Temari needle
・Bag for husks and dry herbs

All you need to make a temari ball is included.
You can watch a video on YouTube
Search #nonatemari
NONA TEMARI: How to Make a Aroma Temari
Let's make an aroma TEMARI.
HOW TO MAKE
1.Put all materials into the bag. Start wrapping with NONA fine thread.
2.Make a temari ball round by wrapping with threads randomly.
3.Wrap it until you don't see the base bag . Cut the thread and leave the end of thread inside the temari.
Tip of Mini-size Temari
Prepare 1 tea spoon of rice husks, 3cm x 3cm square thin paper. Try sizes as you like.